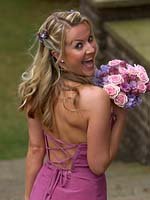 Q
How can I secure my wedding date in your diary?
A
I can secure a date in my diary on receipt of a 50% deposit. Sorry, but dates cannot be held open without a deposit.
Q
How long does it take to do my hair and make-up on the day?
A
Generally hair takes an hour and makeup 45 minutes but as everyone is different this will be discussed with you at the trial once we know what hairstyle and makeup we are doing
Q
What if I need to re-touch my make-up during the day?
A
Your make-up has been applied to last all day, however I can supply you with a lipstick for you to re-apply throughout the day.
Q
Which areas do you cover?
A
I am based in Surrey and cover Surrey, London, Hampshire, Berkshire, Buckinghamshire and most other areas. I do also take bookings overseas.
Q
What if I decide to cancel my booking?
A
Please note all deposits are non-refundable. Any changes or cancellations should be made by letter at least two months before the wedding otherwise a cancellation fee of 50% of the total cost will be charged
Q
Should I have my hair done and then my makeup?
A
Yes, it is best to have your make-up applied after your hair has been styled.
Q
Do you come to my home on the day of the wedding?
A
Yes on the day I will come to your home, hotel or wedding venue
Q
How soon before the wedding should I book a trial?
A
Due to the high volume of enquiries I receive, it is wise to have a trial as early as possible; most bookings are taken at least 6 months in advance of your wedding.
Q
Which cosmetics do you use?
A
I use various cosmetics including Max Factor, MAC, Jean DíArcel, Pier Auge and Estee Lauder. These cosmetics I find are good quality, lovely colours, have little perfume in them and last really well.
Q
Do you do both the hairstyling, make-up, manicures and pedicures?
A
Yes I do both wedding hair, makeup and beauty and can do the bride and her bridal party. If there are lots of girls I sometimes bring a makeup artist who works for me to help me.
Q
What if you are ill on my wedding day?
A
In this unlikely event, I may be able to recommend an alternative make-up artist and every endeavour would be made to find someone to visit you. However, if for any reason this was not possible, you would, of course be given a full refund including your deposit.
Q
When should I pay the final balance?
A
The balance is payable on the wedding day. I donít take debit or credit card payments, but cheques or cash are absolutely fine.
Q
How much experience do you have?
A
I have over 20 years experience of being a professional hairdresser and make-up artist.
Q
Do you provide tiaras, hair accessories, veils and advise me as to what will suit me?
A
Certainly I have made and designed tiaras and headwear for the last 10 years and can show you exactly what would suit you. Being a hairdresser I can provide you with something that will look stunning and stay comfortably in your hair all day. We use Irresistible Headdresses our sister company who make over 1000 fantastic designs and regularly featured on film, TV and magazines. They will also do bespoke designs if you have something in mind!